Plan Your Staycation
October 20/2020
Uncertainty, unusual, and the new normal are words we are hearing more often than we might like this year. One thing that is for sure is that the average person is spending way more time at home. Maybe too much time for some of us. For some, this adds to their anxiety. For others, it has been absolutely incredible.
One reason as to why some have been loving the time at home has to do with what is in their backyard. Many families have had to cancel or postpone travel plans this year. However, this hasn't stopped them from getting some much needed down time. Instead they are planned the perfect staycation. Investing in a swimming pool or hot tub has made a world of difference for many families. Being able to play, exercise, and relax in their own backyard has turned things around for many. Stepping out of their home office into a mini resort is the perfect stress relief.
Some families have decided to turn their vacation budget into their backyard budget. A backyard get-away can be as simple or as elaborate as your means allow. Above ground pools can be installed in a relatively short period of time and can provide just as much fun as an inground pool. Others have decided to plan for a long term investment a create an entire backyard resort with water features, fire bowls, an outdoor kitchen and the works all centered around an inground pool.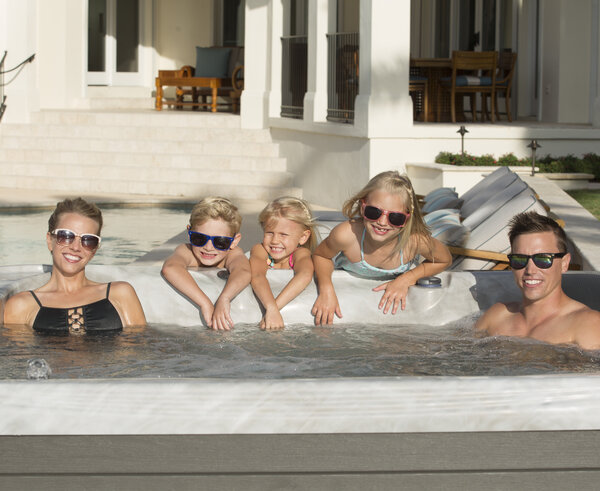 For an investment that offers year round usage, others have opted for a hot tub or swim spa. The beauty of a hot tub is that they have a small footprint and will fit in virtually any space. They can be cooled in the summer and used as a splasher pool or turned up to a toasty 104 degrees in the winter. Plug n' play models are designed for easy installation and plug into any standard 115V outlet. Or for a more permanent and energy efficient hot tub, 220V versions are a better solution. Either style provides hydrotherapy and a place to unwind. Some take advantage of a soak before starting their day, while others prefer to melt away their worries before bed.
Browse our hot tub selection here
There are plenty of staycation options for almost any budget and nearly any space. Just because the world around you is falling a part doesn't mean you have to. Start planning your own retreat today and make the most of what's in your backyard.