Swim Spas by Canadian Spa Company

Vantage Pools and Spas offers luxury swim spas that provide year round swimming. We're your trusted sales team for Langley, Surrey and Maple Ridge.

Swim Spas have become increasingly popular in the last few years, and for good reason. Why are so many home owners turning to swim spas as a means to relax, play, and exercise?

While you enjoy the advantages of both a pool and a hot tub, swim spas have even more benefits. A swim spa can be used year round, either as a swimming pool or as a hot tub. This is because of the insulation and thick cover that helps to maintain the desired temperature. They also have a smaller footprint than an average pool. Yet, you can swim for miles in your own backyard.

Swim spas are also a great way to benefit from hydro therapy. Numerous jets provide personalized massages to target your aches and pains. In addition, swim spas bring an elegant water feature to your back yard get away. Whether you want to improve your breast stroke or just enjoy doing laps, swim spas provide a means to exercise and swim while taking advantage of limited or confined space. Ideal for training and fitness or recovering from injuries, the resistance of the water current is the perfect environment for swimming laps with out going to a public pool.

On ground swim spas are designed much like a hot tub and offer many of the same features. LED lighting, digital temperature controls, even waterfalls are common features of our St. Lawrence Swim Spas. Ask us about available sizes.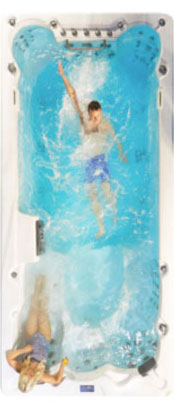 ---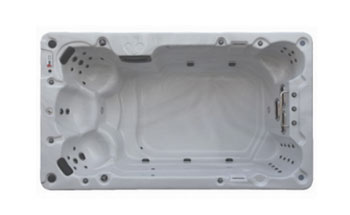 St. Lawrence 13'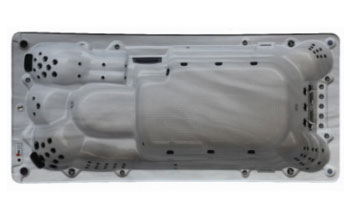 St. Lawrence 16'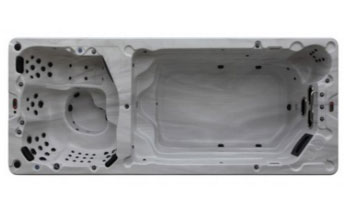 St. Lawrence 20'
---
Inground Swimming Spa
Another option is in ground swim spas. They are built much like an in ground pool. Most in ground swim spas operate from a powerful Badu Stream or Swim Jet system that provides a strong current from a large jet in one end of the pool or spa. A swim spa can be constructed from a fiberglass pool or spa or even from a small vinyl lined pool. The key is having the proper jet system, plumbing and pump installed to create the strong current required to swim against.
One of the most popular swim spas is the line of Hydro Zone pools manufactured by Viking Pools. With several models ranging from 8'6?x9' to the larger 8'6?x18' models or even much larger 45' long lap pools, there are a variety of styles to choose from. For more information on Hydro Zone swim spas click here.
If you would like us to provide you with a free estimate in the Lower Mainland or Greater Vancouver area feel free to contact us at
[email protected]
or visit our showroom at #201-20167 96 Avenue Langley BC. Phone 604-888-1736.